History of the Case: Power can change things and this time its the relation between Nitesh and Manjhi. JD(U) has ruled out their own CM from their party. Now this is something which has reached to its limit, in very rare case, probably the state politics have seen this face. Just after that, cartoons like this has populated in the social media
Date: 7 Feb 2015: 12 points of Nitish on Bihar Crisis
1. After Lok Sabha polls, I expressed my wish to tender resignation, but party members were not in favor of this.
2. The ugly politics played by BJP had never before been witnessed in Bihar
3. People had been expressing their views on the need for work in Bihar.
4. But I thought as we didn't get the expected mandate, felt the need to reach out to people and restore their faith in us.
5. I was given the authority, I recommended Jitan Ram Manjhi ji's name and he became the CM.
6. Manjhi was not paying heed to party line.
7. Good governance has been our foremost identity.
8. We lost the trust of the people.
9. Manjhi camp hint support to BJP
10. It was important to take a decision today about this crisis.
11. It is not good that everyday we sit and decide about elections.
12. There was a conspiracy against JD (U)
Date: 8 Feb 2015: Manjhi Hits out at Nitish
Embattled Bihar Chief Minister Jitan Ram Manjhi on Sunday hit out at Nitish Kumar saying that he thought a Dalit would be rubber stamp chief minister. "When I started working with self-respect, Nitish began to have problems with me," he said.
Date: 9 Feb 2015: Manjhi Hits out at Nitish
After a 50-minute-long meeting with Prime Minister Narendra Modi at the latter's residence, Bihar Chief Minister Jitan Ram Manjhi Sunday said he would not resign and was ready to face a floor test in the Assembly. He also accused Nitish Kumar of being hungry for power.
Manjhi, who came to Delhi saying he wanted to attend the maiden NITI Aayog meeting between CMs and the PM on Sunday, had sought an appointment with Modi. Manjhi's party JD(U), which has asked him to step down in favour of Nitish, has accused the BJP of using him to try and split the party.
"I am still the CM of Bihar," Manjhi said at a press conference. "Nitish Kumar's real face has been exposed. He cannot live without power.
I refused to be a rubber-stamp chief minister, that was his problem. I will not go down without a fight. No one can sink a manjhi's (boatman's) boat." The CM said he and Modi had not discussed politics. "I just sought the PM's help for Bihar." The meeting, which followed day-long backchannel talks between the BJP and pro-Manjhi MLAs, seemed to have lifted his mood. Earlier, wearing a strained smile, he had refused to speak about the matter, dodging the media throughout the day.
Date: 10 Feb 2015: BJP keeps card closed
"Our stand is to wait and watch," senior leader Shahnawaz Hussain said.
BJP said Monday that the majority has to be proved on the Assembly floor and not at the party office, as claimed by Kumar after his meeting with the Governor. "As the main opposition, BJP is keeping a close watch and will present its opinion in the Assembly. After the Governor decides, then only will BJP put forth its position," Hussain said at a press meet at BJP headquarters.
He added that they are sure that Manjhi is "very confident" and "Nitish's camp looks very disappointed".
Date: 11 Feb 2015: Nitish Kumar to meet President 
Mounting pressure on the Bihar Governor to call for a floor test immediately to end the state's ongoing political crisis, Janata Dal (United) leader and former chief minister Nitish Kumar brought a coalition of 130 MLAs from various parties to the Capital on Tuesday to seek intervention of President Pranab Mukherjee.
The President's House has given appointment to a JD(U)-led 12-member delegation for 7pm on Wednesday.
Date: 11 Feb 2015: Set back for Nitish Kumar from HC
THE Patna High Court on Wednesday stayed the process of recognising Nitish Kumar as the JD (U) legislature party leader. The court order came on a PIL filed by rebel JD (U) MLA Rajeshwar Raj who questioned Nitish's selection as the legislature party leader when Jitan Ram Manjhi has not resigned as the Chief Minister.
The court did not make any observation and left it to Governor Kesari Nath Tripathi to take a call on the Assembly Speaker notifying Nitish as the JD (U) legislature party leader. The court will hear the arguments on the matter on February 17.
The petitioner's lawyer S K Mangalam told reporters: "The bench of Patna High Court Chief Justice stayed further action on Assembly secretariat notifying Nitish Kumar as legislature party leader on February 7 on request of JD (U) state president Bashistha Narayan Singh." The court said the Governor has to take a call on the legality of the Assembly notification.
Date: 12 Feb 2015: whose baby is Manjhi's Govt. ask Nitish
Claiming that no political party has come forward to endorse the Jitan Ram Manjhi government and it has a support of "just" 12 MLAs, senior JD(U) leader Nitish Kumar on Thursday asked "Whose baby is the Manjhi government."
"I want to know which political party is backing the Manjhi government as even the BJP has not come forward to support it publicly," a visibly exasperated Kumar said at a press conference at his official residence.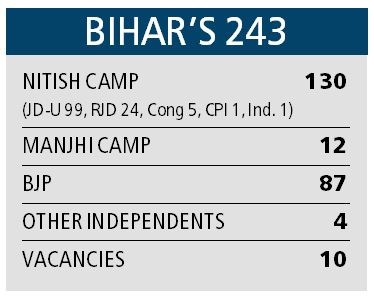 Date: 13 Feb 2015:Nitish made 'a great mistake' in assuming me as puppet: Jitan Ram Manjhi
"I have spent 34 year in politics and worked on different posts as minister and legislator…he (Nitish) committed great mistake in assuming that I'll act like his puppet," Manjhi told reporters.
Manjhi, who had been so far maintaining restrain in making comments on Nitish Kumar, said "it is true that after becoming CM in May last year for 1-2 months, I used to act on whatever instruction that came from there (Nitish Kumar) on which people started calling me a rubber stamp CM and being run by remote by Kumar," he said.
Bihar Governor Keshari Nath Tripathi on Friday said it is not right to indulge in political blame game over his decision to allow Chief Minister Jitan Ram Manjhi to seek confidence vote on February 20 as he had acted in accordance with rules.
Tripathi remarks come in the backdrop of JD(U) leader Nitish Kumar's allegation that the Governor under the Centre's pressure gave the incumbent Chief Minister a long time to prove his majority so that MLAs could be "lured".
 Date: 13 Feb 2015: Nitish Kumar is solely responsible for Bihar Crisis: BJP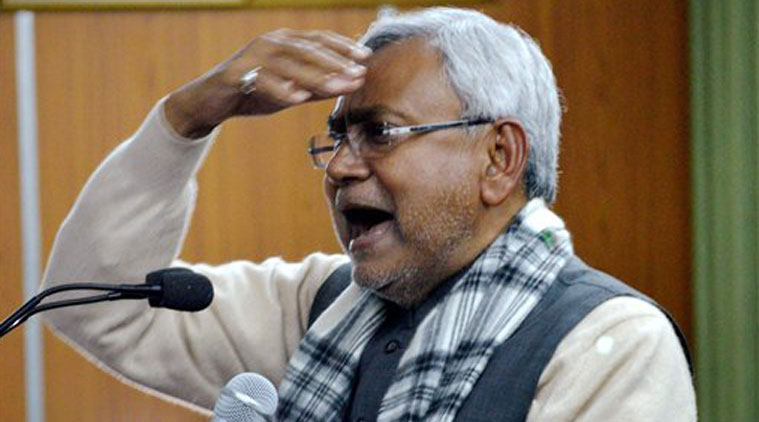 The BJP on Monday accused JD(U) leader Nitish Kumar of being solely responsible for throwing Bihar into a "constitutional crisis" and political instability due to his "craving for power" and charged him with "misusing" the Speaker's post for his politics.
"They are frightening MLAs with rumour that I am working for imposing the President's Rule in Bihar. It's completely untrue. If I had wished so, I would have recommended it long back. I will win trust vote on February 20 ,"Jitan Ram Manjhi told reporters, saying he has urged every party to support him.
FEB 20: The D-Day
Comments
comments